Smykofonia
Smykofonia [The Toddler Philharmonic] for the second time at the La Folle Journée Festival.
Come and listen to special concerts for music-loving babies aged 0-5 years.
12 concerts at the "Chekhov Hall", 29, 30 September 10:00, 11:15 and 12:30.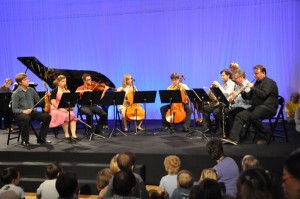 "IT IS NEVER TOO EARLY FOR MUSIC" is the slogan under which the "Music is for Everyone" Foundation has organised more than 100 "Toddler Philharmonic" concerts since February 2011 in cooperation with the Sinfonia Varsovia Orchestra, the Mazowieckie Centre for Art and Culture and Arts with the support of the Orange Foundation, the Dept. of Culture of the Capital City of Warsaw and of the Ministry of Culture and National Heritage. The concerts are held regularly at the Mazowieckie Centre for Art and Culture at 12 Elektoralna Street and, starting from June 2012, at the new headquarters of the Sinfonia Varsovia Orchestra at 272 Grochowska Street, as well as in the Mazowsze region in the cities of Otwock, Węgrów, Siedlce and Sokołów Podlaski.
Smykofonia concerts have featured performances by Olga Pasiecznik, Kuba Jakowicz, the Arte dei Suonatori ensemble, the Witold Lutosławski Quartet, Anton Birula and "Lute Duo", "Ensemble Diderot", "Kawalerowie Błotni", the "Il Canto" ensemble with "Hob-beats", "Puch-Puchy", musicians of the National Philharmonic Orchestra and from the Warsaw Chamber Opera, and many other fine artists. The whole project is consulted with Professor Barbara Kamińska – music psychologist at the Fryderyk Chopin University of Music, while the concerts themselves are hosted by Ada Kortas of the Pomeranian Philharmonic, Malina Sarnowska of the National Philharmonic, Marysia Klatka, Małgosia Szarlik-Woźniak and Jacek Tarczyński, and Viola Łabanow.
Since its inception, the project has aroused enormous interest of parents and has been a great attendance success. The basic premise of the project is the high quality of music played, with all activities adjusted to the perceptive abilities of children. Each concert consists of works performed in their original form. This is followed by their arrangements, songs and games for children and parents. The Foundation has been building up its knowledge in preparing concerts for the youngest and most demanding audience by relying on the experience of the Wigmore Hall in London and on the knowledge of Professor Barbara Kamińska from the Chair of Psychology of Music at the Fryderyk Chopin University of Music.
All interested in participating in the project, attending Smykofonia concerts and events in future seasons and receiving information about the project and concerts are invited to visit these websites: www.smykofonia.pl, www.muzykajest.pl and sign up to receive the newsletter. You are also welcome to use the web song-book: www.spiewajmimamo.pl